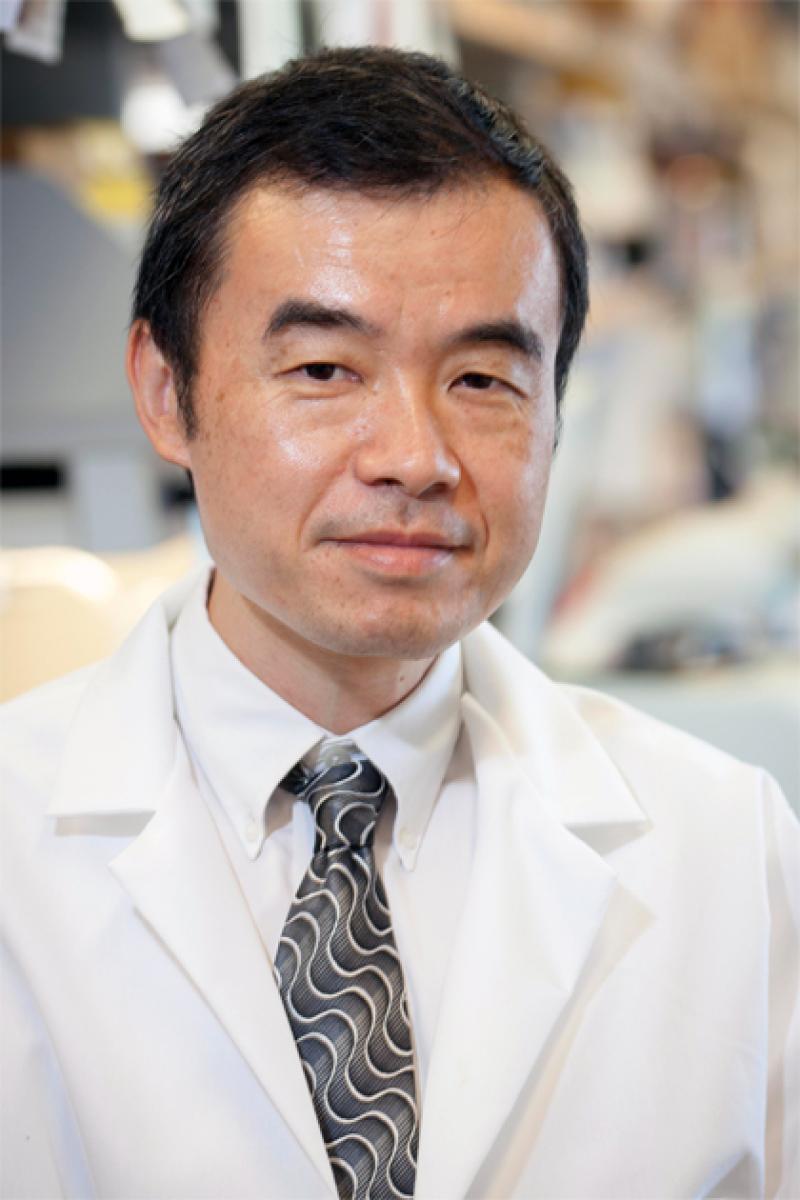 Overview
Academic Appointments
Associate Professor of Ophthalmic Science (in Ophthalmology and in Pathology and Cell Biology)
Credentials & Experience
Education & Training
BS, Physics, Beijing University (China)
PhD, Biology, Johns Hopkins University
Honors & Awards
2014 Jules and Doris Stein Research to Prevent Blindness Professorship
2011 David D. Weaver Investigator
2005 Basil O'Connor Scholar
Research
  The main focus of our research is mechanism of cell signaling during eye development.  The eye is a prominent system to study signal transduction, not only because of its biomedical significance, but also because of the rich resource of experimental tools available in eye research.  Previous studies have also identified multiple signaling pathways including FGF signaling in mediating cellular interactions in the eye.  However, the specific signaling components of these pathways and their precise in vivo functions in the eye remain poorly understood.  With the advent of genome wide analysis and the rapidly expanding collection of mouse models, it has now become increasingly important to determine the in vivo function of cell signaling by genetic approaches.  We would therefore like to employ the formidable mouse genetic tools to ultimately determine the signaling pathways governing eye development.
  Our studies encompass the lens, lacrimal gland and retina, three strikingly different tissues of the eye.  We hope to use these models to find the commonalities of cell signaling that can explain the growth, differentiation and homeostasis of the ocular cells, making fundamental contributions to our understanding of the basic biology.  There are millions of children in the world who are born with vision disorder, challenging clinicians to find new and better ways to treat these diseases.  The medical advances need to be guided by the profound understanding how the human eyes are developed and what can go awry in pathological conditions.  By focusing on the growth factor signaling, our studies may help us to understand how these congenital disorders are developed and to inspire future treatment for these diseases. The biological principle revealed in our study may also be broadly applicable to other organs and diseases where growth factor signaling is active.
Research Interests
Mechanism of FGF signaling in eye development
Molecular regulation of cell shape, adhesion and migration
Glial Development and Pathology
Neural Degeneration and Repair
Grants
PDGF signaling in lens development
R01 EY025933
Project Dates: 08/01/2015-06/30/2020
SIGNALING MECHANISMS IN LENS DEVELOPMENT (Federal Gov)

Apr 1 2020 - Mar 31 2025
REGULATION OF FGF SIGNALING IN LACRIMAL GLAND DEVELOPMENT (Federal Gov)

Sep 1 2019 - Jul 31 2024
MECHANISM OF CSK SIGNALING IN LACRIMAL GLAND MORPHOGENESIS (Federal Gov)

Feb 1 2020 - Dec 31 2023
PDGF SIGNALING IN LENS DEVELOPMENT (Federal Gov)

Aug 1 2015 - Jun 30 2021
JULES AND DORIS STEIN RPB PROFESSORSHIP (Private)

Jan 1 2019 - Dec 31 2019
ROLE OF FGF AND WNT SIGNALING IN THE DEVELOPMENT OF CILIARY MARGIN (Private)

Jul 1 2018 - Jun 30 2019
JULES AND DORIS STEIN RPB PROFESSORSHIP (Private)

Jan 1 2014 - Dec 31 2018
ROLE OF FGF AND WNT SIGNALING IN THE DEVELOPM (Private)

Jul 1 2017 - Jun 30 2018
Selected Publications
Garg A, Hannan A, Wang Q, Makrides N, Zhong J, Li H, Yoon S, Mao Y, Zhang X. 2020. Etv transcription factors functionally diverge from their upstream FGF signaling in lens development. eLife. 9:e51915.
Li H, Mao Y, Bouaziz M, Yu H, Qu X, Wang F, Feng GS, Shawber C, Zhang X. 2019. Lens differentiation is controlled by the balance between PDGF and FGF signaling. PLoS Biology. 17(2):e3000133.
Collins TN, Mao Y, Li H, Bouaziz M, Hong A, Feng GS, Wang F, Quilliam LA, Chen L, Park T, Curran T, Zhang X. 2018. Crk proteins transduce FGF signaling to promote lens fiber cell elongation. elife. e32586. doi: 10.7554/eLife.32586.
Garg A, Hannan A, Wang Q, Collins T, Teng S, Bansal M, Zhong J, Xu K, Zhang X. 2018. FGF-induced Pea3 transcription factors program the genetic landscape for cell fate determination. PLoS Genetics. 14(9):e1007660.
Garg A, Bansal B, Gotoh N, Feng G, Zhong J, Wang F, Kariminejad A, Brooks S and Zhang X. 2017. Alx4 relays sequential FGF signaling to induce lacrimal gland morphogenesis. PLoS Genetics. 13(10):e1007047.
Tao C, Zhang X. 2016. Neuronal-derived Proteoglycans Control Astrocyte Migration and Angiogenesis by Regulating Basement Membrane Assembly. Cell Reports. 17:1832–1844.
Mathew G, Hertzler-Schaefer K, Wang F, Feng G-S, Zhong J, Zhao J, Downward J, Zhang X. 2016. Targeting of Ras-mediated FGF signaling suppresses Pten-deficient skin tumor. Proceedings of the National Academy of Sciences. 113:13156–13161.