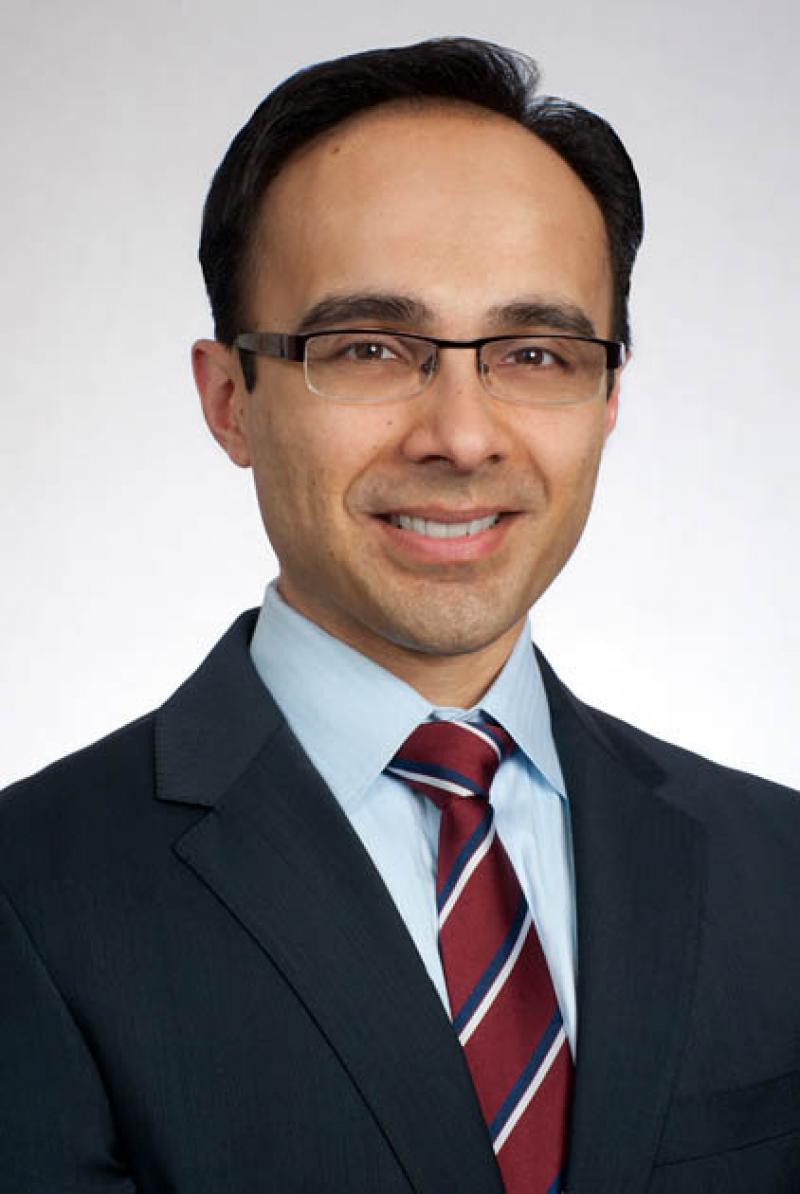 Overview
Dr. Sheth graduated Summa Cum Laude from Harvard University with a degree in Physics and Astronomy. He then entered the Medical Scientist Training Program at the UCLA School of Medicine, where he received both his MD and PhD degrees. Dr. Sheth trained in Neurological Surgery at the Massachusetts General Hospital and Harvard Medical School.
Dr. Sheth specializes in the treatment of patients with Movement Disorders, Epilepsy, Brain Tumors, Trigeminal Neuralgia, Hydrocephalus, and certain Psychiatric Disorders. He enjoys bringing a personalized approach to each patient in order to arrive at an individually tailored treatment plan optimized for the patient and his or her family. He works with a world-class multi-disciplinary team of surgeons, neurologists, psychiatrists, radiologists, and others to provide compassionate, state-of-the-art care for his patients. Among the many techniques at his disposal are stereotactic neurosurgery, deep brain stimulation, ablative techniques, awake brain mapping, electrode recordings, computer-guided navigation, and microsurgery.
Dr. Sheth is also a neuroscientist, with PhD and post-doctoral training in neurophysiology. His research interests are centered on a desire to better understand brain function. Dr. Sheth's research is motivated by the belief that if we can understand how the brain works at the level of individual neurons and circuits, we will be much better equipped to repair it. By understanding normal brain processes such as motor control, reward processing, and decision-making, we can understand disease processes such as movement disorders, addiction, and anxiety disorders. Dr. Sheth's research has been funded by the NIH, the Harvard Catalyst, the MGH Cancer Center, and the American Association of Neurological Surgeons.
Dr. Sheth is Director and Founder of the Functional and Cognitive Neurophysiology laboratory, which focuses on the study of human decision-making, behavior, and cognitive processes.
Areas of Expertise / Conditions Treated
Adult Trauma
Anaplastic Astrocytoma
Arachnoid Cyst
Astrocytoma
Benign Essential Tremor
Biopsies
Brain Abscess
Brain Aneurysm
Brain Stem Glioma
Brain Tumor
Brain Tumor Surgery
Cavernous Malformation
Chiari Malformation
Chronic Pain
Computer Assisted Surgery
Computer Assisted Surgery (CAS)
Concussion
Craniopharyngioma Surgery
Craniotomy
Deep Brain Stimulation
Dystonia
Epilepsy
Epilepsy Surgery
Epileptic Seizures
Facial Pain
Functional Brain Mapping
Gamma Knife
Gamma Knife Radiosurgery
Glioblastoma Multiforme
Gliomas
Head Injury
Head Trauma
Hemangioblastoma
Hemifacial Spasm
Hydrocephalus
Meningioma
Microsurgery
Microvascular Decompression
Microvascular Neurosurgery
Microvascular Surgery
Minimally Invasive Brain Surgery
Minimally Invasive Neurosurgery
Minimally Invasive Procedures
Minimally Invasive Surgery
Minimally Invasive Techniques
Movement Disorder
Neurobehavioral Disorders
Neuropathic Pain
Neurosurgery
Parkinson's Disease
Pediatric Epilepsy
Pediatric Seizures
Seizure Disorder
Shunts
Skull Base Surgery
Skull Base Tumors
Spasticity
Spinal Tumors
Stereotactic Neurosurgery
Stereotactic Radiosurgery
Stereotactic Surgery
Trauma
Trauma Surgery
Traumatic Brain Injury
Trigeminal Neuralgia
Trigeminal Neuralgia Surgery
Academic Appointments
Assistant Professor of Neurological Surgery
Administrative Titles
Advisory Committee, CTNI
Unit Director, 8 Hudson North (Neurosurgery/Neurology)
Director, Psychiatric Neurosurgery Service
Credentials & Experience
Education & Training
MD, 2005 David Geffen School of Medicine at UCLA
2005 David Geffen School of Medicine at UCLA
Residency: Massachusetts General Hospital
Fellowship: Massachusetts General Hospital
Research
The Functional and Cognitive Neurophysiology laboratory, led by Dr. Sameer Sheth, focuses on the study of human decision-making, behavior, and cognitive processes. We use a combination of imaging and intracranial electrophysiology to investigate structural and functional relationships in the human brain. Neurosurgical procedures such as deep brain stimulation (DBS), epilepsy surgery, and brain tumor resection often require detailed imaging and electrophysiological recordings before, during, and after surgery. We utilize these unique opportunities to study the human brain and behavior in health and disease states.
Research Interests
Cortical and Basal Ganglia Networks involved in Disorders of Mental Health
Coupling between Neuronal Activity and Hemodynamics in Human Cortex
Novel Targets and Indications for Neuromodulation
Physiology of Human Cognitive Control
Selected Publications
Basic Science
Smith EH, Banks GP, Mikell CB, Cash SC, Patel SR, Eskandar EN, Sheth SA. "Frequency-dependent representation of reinforcement-related information in human medial and lateral prefrontal cortex." Journal of Neuroscience (2015 in press).
Banks G, Mikell CB, Youngerman BE, Henriques B, Kelly KM, Chan AK, Herrera D, Dougherty DD, Eskandar EN, Sheth SA. "Neuroanatomical predictors of response to dorsal anterior cingulotomy for obsessive-compulsive disorder." JAMA Psychiatry 72(2): 127-135 (2015).
McGovern, RA, Ratneswaren, T, Smith, EH, Russo, JF, Jongeling, AC, Bateman, LM, Schevon CA, Feldstein NF, McKhann GM, Sheth SA. Investigating the function of deep cortical and subcortical structures using stereotactic electroencephalography: lessons from the anterior cingulate cortex. Journal of Visualized Experiments : JoVE, (98). doi:10.3791/52773 (2015).
Patel SR, Sheth SA, Martinez-Rubio C, Mian MK, Asaad WF, Gerrard JL, Kwon CS, Dougherty DD, Flaherty AW, Greenberg BD, Gale JT, Williams ZM, Eskandar EN. "Studying task-related activity of individual neurons in the human brain." Nature Protocols 8(5): 949-57 (2013).
Sheth SA, Mian MK, Patel SR, Asaad WF, Williams ZM, Dougherty DD, Bush G, Eskandar EN. "Human dorsal anterior cingulate neurons mediate ongoing behavioral adaptation." Nature 488: 218-221 (2012).
Patel S*, Sheth SA*, Mian MK, Gale JT, Greenberg BD, Dougherty DD, Eskandar EN. "Single-neuronal responses during a financial decision making task in the human nucleus accumbens." Journal of Neuroscience 32: 7311-7315 (2012). *Contributed equally.
Mian MK, Sheth SA, Patel SR, Spiliopoulos K, Eskandar EN, Williams ZW. "Encoding of rules by neurons in the human dorsolateral prefrontal cortex." Cerebral Cortex Nov 21 (2012 Epub ahead of print).
Sheth SA, Abuelem T, Gale JT, Eskandar EN. "Basal Ganglia Neurons Dynamically Facilitate Exploration during Associative Learning." Journal of Neuroscience 31(13): 4878-4885 (2011).
Clinical
Brown, LT, Mikell, CB, Youngerman, BE, Zhang, Y, McKhann, GM, Sheth, SA Dorsal anterior cingulotomy and anterior capsulotomy for severe, refractory obsessive-compulsive disorder: a systematic review of observational studies. Journal of Neurosurgery, 1-13. doi:10.3171/2015.1.JNS14681 (2015).
Russo JF, Sheth SA. "Deep brain stimulation of the dorsal anterior cingulate cortex for the treatment of chronic neuropathic pain." Neurosurgical Focus (2015 in press).
Sinha S, McGovern RA, Sheth SA. "Deep brain stimulation for severe autism: from pathophysiology to procedure." Neurosurgical Focus (2015 in press).
Sheth SA, Neal J, Tangherlini F, Mian MK, Dougherty D, Eskandar EN. "Limbic system surgery for treatment-refractory obsessive-compulsive disorder: five-year prospective follow-up in 64 patients." Journal of Neurosurgery 118: 491-97 (2012).