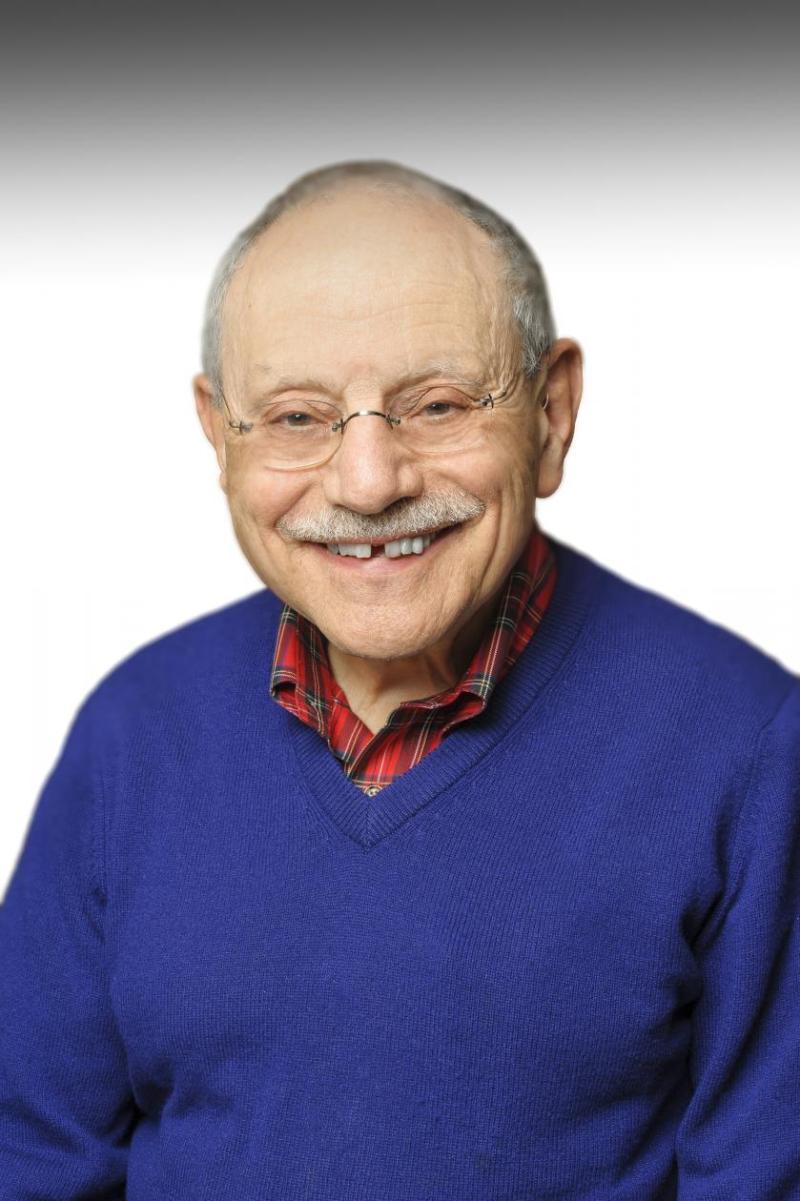 Overview
Academic Appointments
Professor of Pathology & Cell Biology
Michael D. Gershon, Professor of Pathology and Cell Biology, has been called the "father of neurogastroenterology" because, in addition to his seminal work on neuronal control of gastrointestinal (GI) behavior and development of the enteric nervous system (ENS), his classic trade book, The Second Brain, has made physicians, scientists, and the lay public aware of the significance of the unique ability of the ENS to regulate GI activity in the absence of input from the brain and spinal cord. & Dr. Gershon has published almost 400 peer-reviewed papers.& Major contributions, which have relevance to disorders of GI motility, including irritable bowel syndrome, include identification of serotonin as a GI neurotransmitter and the initial observation in the gut of intrinsic sensory nerve cells that trigger propulsive motor activity.& Dr. Gershon also discovered that the serotonin transporter (SERT) is expressed by enterocytes (cells that line the lumen of the gut) as well as by enteric neurons and is critical in the termination of serotonin-mediated effects. & Dr. Gershon has identified roles in GI physiology that specific subtypes of serotonin receptor play and he has provided evidence that serotonin is not only a neurotransmitter and a paracrine factor that initiates motile and secretory reflexes, but also as a hormone that affects bone resorption and inflammation. He has called serotonin "a sword and shield of the bowel" because it is simultaneously proinflammatory and neuroprotective.& Mucosal serotonin triggers inflammatory responses that oppose microbial invasion, while neuronal serotonin protects the ENS from the damage that inflammation would otherwise cause.& Neuron-derived serotonin also mobilizes precursor cells, which are present in the adult gut, to initiate the genesis of new neurons, an adult function that reflects a similar essential activity of early-born serotonergic neurons in late fetal and early neonatal life to promote development of late-born sets of enteric neurons. Dr. Gershon has made many additional contributions to ENS development, including the identification of necessary guidance molecules, adhesion proteins, growth and transcription factors; his observations suggest that defects that occur late in ENS development lead to subtle changes in GI physiology that may contribute to the pathogenesis of functional bowel disorders.& More recently, Drs. Michael and Anne Gershon have demonstrated that varicella zoster virus (VZV) infects, becomes latent, and reactivates in enteric neurons, including those of humans.& They have demonstrated that "enteric zoster (shingles)" occurs and may thus be an unexpected cause of a variety of gastrointestinal disorders, the pathogenesis of which is currently unknown.
Email: mdg4@cumc.columbia.edu
Credentials & Experience
Education & Training
MD, 1963 Medicine, Cornell University Medical Center, NY
Fellowship: 1966 Oxford University (United Kingdom)
Honors & Awards
Phi Beta Kappa, Alpha Epsilon Delta, and Phi Kappa Phi Honorary Societies
Polk Prize for undergraduate research, 1961.
Alpha Omega Alpha Honorary Medical Society, 1962, and President in 1963
Borden Undergraduate Research Prize, 1963
Polk Prize for highest academic standing, 1963
Sigma Xi
Markle Foundation Scholar in Academic Medicine, 1968
N.Y.C. Health Research Council Career Scientist Award, 1970
Grass Foundation Visiting Professor, 1981.
American Gastroenterological Association Council on Nerves and the Gut.
University of Rochester Outstanding Neuroscientist, 1983
Jacob Javits Award, National Institutes of Health, 1985
Dean's Distinguished Teaching Award, Columbia University 1985
Camilio Golgi Medal: Fidia Research Foundation, 1986
State of the Art Lecture, American Gastroenterological Association, 1986
Association of Anatomy Chairman Tousimis Prize for Outstanding Research and contributions to the field of Anatomy
Medal of Francis I, Collège de France, 1990
Chair FASEB GI Conf. IV, 1991
Guest Editor, Special issue on The Neural Crest, J. Neurobiol. 1993
Cajal Club, President, 1994
American Association of Anatomists, President, 1995
Fellow of the American Association for the Advancement of Science (elected 1999)
The Henry Grey Prize (Highest award given by the American Association of Anatomists (2000)
Charles W. Bohmfalk Teaching Award, Columbia Univ. (2005)
American Association of Anatomists Fellow (2007)
Fourth Annual Charles F. Code Lecture, Mayo Clinic (2007)
American Gastroenterological Association Fellow (2008)
American Gastroenterological Association Masters Award for Sustained Achievement in Digestive Sciences (2008)
Horace Davenport Lecturer, American Physiological Society, Gastrointestinal Section (2010)
Rome Foundation Lecturer, American Gastroenterological Society, DDW (2011)
Elected to American Clinical and Climatological Association (2011)
Research
Research Interests
Cell Specification and Differentiation
Synapses and Circuits
Cellular/Molecular/Developmental Neuroscience
Grants
AUTOIMMUNE FEATURES OF NEURODEGENERATIVE DISORDERS (Federal Gov)

Sep 30 2018 - Jul 31 2023
MICROENVIRONMENT IN ENTERIC NEURON DEVELOPMENT (Federal Gov)

Jan 1 2018 - Dec 31 2022
MODELING ENTERIC NERVOUS SYSTEM DEVELOPMENT AND HIRSCHSPRUNG S DISEASE IN HUMAN PLURIPOTENT STEM CELLS (Federal Gov)

Sep 30 2016 - Jun 30 2021
VZV IN THE ENS: PATHOGENESIS AND CONSEQUENCES (Federal Gov)

Mar 1 2017 - Feb 28 2021
QUIESCENT DCLK1+ STEM CELLS IN THE MOUSE INTESTINE (Federal Gov)

Sep 1 2013 - May 31 2017
ROLE OF NEURONS IN THE DEVELOPMENT AND PROGRESSION OF PANCREATIC CANCER (Private)

Jan 1 2013 - Dec 31 2016
RET RECEPTOR TYROSINE JINASE SIGNALING IN THE POSTNATAL AND ADULT ENTERIC NERVOUS SYSTEM (Private)

Feb 16 2015 - Feb 16 2016
PRUCALOPRIDE-MEDIATED NEUROPROTECTION AND NEUROGENESIS IN THE ENTERIC NERVOUS SYSTEM (Private)

Dec 4 2012 - Dec 3 2014
NEURAL CONTROL OF GASTROINTESTINAL ACTIVITY (Federal Gov)

Dec 1 1977 - Apr 30 2013
ENTERIC 5-HT4 NEURODEGENERATION INVIVO (Private)

Oct 30 2006 - Oct 29 2009
VARICELLA-ZOSTER VIRUS--RECEPTORS AND INFECTIVE MECHANISMS (Federal Gov)

Dec 1 1989 - Mar 31 2009
ENETRIC 5-HT RECEPTORS: LOCATION, FUNCTION AND ACTIVATION BY TEGASROD (Private)

Oct 1 2002 - Nov 30 2007
ENETRIC 5-HT RECEPTORS: LOCATION, FUNCTION AND ACTIVATION BY TEGASROD (Private)

Oct 1 2002 - Nov 30 2007
EFFECT OF COMPOUNDS ON ENTERIC NERVOUS SYSTEM (Private)

Jun 20 2006 - Jun 30 2007
PATHOBIOLOGY OF GASTROINTESTINAL INFECTION AND INFLAMATION (Federal Gov)

Feb 1 2001 - Jan 31 2007
Selected Publications
Gershon, M.D. (1998). The Second Brain., Harper Collins, New York, N.Y., pp. 1-312.1
Gershon MD. Serotonin is a sword and a shield of the bowel: serotonin plays  offense and defense. Trans Am Clin Climatol Assoc. 2012;123:268-80; discussion  PubMed PMID: 23303993; PubMed Central PMCID: PMC3540639.    
Gershon MD. 5-Hydroxytryptamine (serotonin) in the gastrointestinal tract.  Curr Opin Endocrinol Diabetes Obes. 2013 Feb;20(1):14-21. doi:  10.1097/MED.0b013e32835bc703. PubMed PMID: 23222853.  
Chen JJ, Gershon AA, Li Z, Cowles RA, Gershon MD. Varicella zoster virus (VZV) infects and establishes latency in enteric neurons. J Neurovirol. 2011 Dec;17(6):578-89. Epub 2011 Dec 22. PubMed PMID: 22190254; PubMed Central PMCID:  PMC3324263.  
Karsenty G, Gershon MD (2011) The importance of the gastrointestinal tract in the control of bone mass accrual. Gastroenterology 141:439-442.
Li Z, Chalazonitis A, Huang YY, Mann JJ, Margolis KG, Yang QM, Kim DO, Cote F, Mallet J, Gershon MD. (2011) Essential roles of enteric neuronal serotonin in gastrointestinal motility and the development/survival of enteric dopaminergic neurons. Journal of Neuroscience 31:8998-9009.