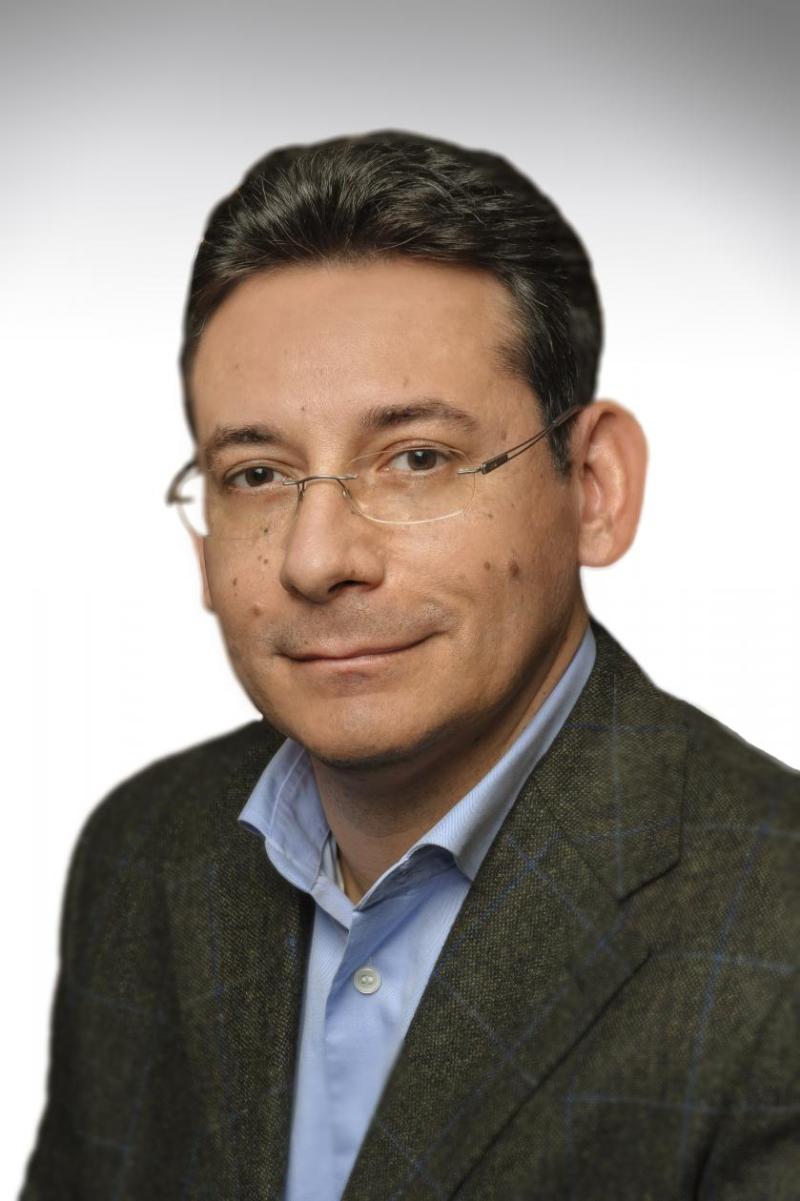 Overview
Academic Appointments
Associate Professor of Pathology & Cell Biology
Credentials & Experience
Education & Training
BS, MS, 1992 Biology, Universita degli Studi di Roma
PhD, 1995 Biotechnology, Universita degli Studi di Roma
Honors & Awards
1992                Laurea Summa Cum Laude, University of Rome La Sapienza
1995                Doctoral Degree in Biotechnology Summa Cum Laude, University of Rome Tor Vergata
2002                Telethon Career Award, Fondazione Telethon
2002                EMBO Young Investigator Award, European Molecular Biology Organization
Research
Ribonucleoprotein complexes in post-transcriptional gene regulation and motor neuron disease
Motor control is essential for complex human behaviors such as swallowing, breathing and locomotion. The coordinated activity of motor neurons and their networked neurons and muscle fibers is critical for motor system function and disruption of this network underlies fatal human disorders such as spinal muscular atrophy (SMA) and amyotrophic lateral sclerosis (ALS)—the two most common motor neuron diseases of infancy and adulthood, respectively. Importantly, increasing evidence links these diseases to mutations in ubiquitously expressed genes implicated in RNA processing and post-transcriptional gene regulation. However, knowledge of the normal functions of these genes is still limited and the disease mechanisms remain poorly understood. Moreover, a prominent unsolved conundrum common to other neurodegenerative disorders is how disruption of ubiquitously expressed proteins can cause dysfunction or death of specific subsets of neurons. Our work focuses on addressing these fundamental questions using SMA as a paradigm.
SMA is an inherited disorder characterized by degeneration of motor neurons in the spinal cord and atrophy of skeletal muscle, and represents the leading genetic cause of death in infancy. SMA patients are homozygous for deletions or mutations in the survival motor neuron (SMN1) gene, but retain at least one copy of the hypomorphic SMN2 gene. SMN2 produces low levels of full-length SMN protein that cannot compensate for the loss of SMN1, resulting in SMA. Thus, SMA is caused by a ubiquitous deficiency in SMN where remaining levels appear sufficient for function and survival of most cell types, but not of motor neurons. Our previous work helped establish SMN's essential role in RNA processing. SMN is part of a macromolecular complex that functions in the biogenesis of small nuclear ribonucleoproteins (snRNPs) - which are essential components of the splicing machinery that catalyze intron removal from mRNA precursors in the nucleus - as well as other RNPs. The SMN complex functions as a molecular chaperone to increase the efficiency and specificity of RNP assembly, and to provide an opportunity for RNA-protein interactions to be regulated in vivo.
Research in my laboratory takes advantage of the unique position of SMN at the nexus between RNA regulation and motor neuron biology to advance our understanding of the mechanisms controlling the biogenesis and function of RNPs in post-transcriptional gene regulation and to determine how disruption in these processes contributes to neurodegenerative disease. The underlying logic of our approach is that studies of SMN's basic functions in RNA regulation will provide the key to understanding disease mechanisms and, conversely, that analysis of motor neuron pathology will uncover new fundamental aspects of SMN biology. To reach this multidisciplinary goal, we employ cell and animal models as well as a wide range of biochemical, molecular and cell biological methodologies. High-throughput screening approaches are also used to identify chemical and genetic modifiers of SMN biology and disease pathways. On one hand, these efforts are designed to increase our knowledge of fundamental mechanisms that control RNA processing and their involvement in motor neuron survival and function. On the other, they aim to deconstruct disease mechanisms and identify potential therapeutic approaches.
Research Interests
RNA biology
RNA processing
motor neuron biology and diseases
molecular mechanisms of neurodegeneration
synapses and circuits
cellular/molecular/developmental neuroscience
Grants
MECHANISMS AND THERAPEUTIC TARGETING OF MOTOR NEURON DEATH IN SMA (Federal Gov)

Feb 1 2020 - Jan 31 2025
ESSENTIAL ROLE OF STASIMON IN MOTOR CIRCUIT DEVELOPMENT AND DISEASE (Federal Gov)

Dec 1 2019 - Nov 30 2024
MECHANISMS OF SYNAPTIC LOSS BY THE CLASSICAL COMPLEMENT PATHWAY IN MOTOR CIRCUIT DEVELOPMENT AND DISEASE (Federal Gov)

Sep 15 2018 - Jun 30 2023
MECHANISMS OF CENTRAL SYNAPTIC DYSFUNCTION IN SMA (Federal Gov)

Apr 1 2012 - Jun 30 2022
RNA-MEDIATED MECHANISMS OF MOTOR SYSTEM DYSFUNCTION IN SPINAL MUSCULAR ATROPHY (Federal Gov)

Jun 1 2017 - Feb 28 2022
THE ROLE OF P38 MAPK ACTIVATION IN SPINAL MUSCULAR ATROPHY (Federal Gov)

Apr 1 2017 - Mar 31 2020
SMN DYSFUNCTION IN FUS-DEPENDENT ALS (Federal Gov)

Aug 15 2016 - Jul 31 2019
PHARMACOLOGICAL INHIBITION OF P38MAPK AS A CANDIDATE THERAPEUTIC APPROACH FOR SMA (Private)

Jun 1 2016 - May 31 2018
SPINAL MUSCULAR ATROPHY ASSOCIATION PROPOSAL (Private)

Jan 1 2006 - Mar 31 2018
ROLE OF DEFECTIVE U7 SNRNP BIOGENESIS IN SPINAL MUSCULAR ATROPHY (Private)

Feb 1 2016 - Jan 31 2018
NOVEL GENETIC DETERMINANTS OF THE NEUROMUSCULAR SMA PHENOTYPE (Federal Gov)

Dec 1 2006 - May 31 2017
SMALL CHEMICAL MODULATORS OF SMN BIOLOGY AS CANDIDATE THERAPEUTICS FOR SMA (Federal Gov)

Mar 1 2014 - Feb 28 2017
ROLE OF SMN IN CYTOPLASMIC MRNA REGULATION (Private)

May 1 2016 - Oct 31 2016
CELLULAR BASIS OF MOTOR CIRCUIT DYSFUNCTION INDUCED BY SMN DEFICIENCY (Private)

Jul 1 2014 - Jun 30 2016
SMN CONTROL OF SNRNP BIOGENESIS: ROLE IN RNA SPLICING AND MOTOR NEURON SURVIVAL (Federal Gov)

Apr 15 2010 - Mar 31 2016
A GENOME-WIDE PHENOTYPIC SCREEN FOR MODIFIERS OF SMN EXPRESSION AND FUNCTION (Federal Gov)

Feb 1 2014 - Jan 31 2016
A NOVEL SPINAL CIRCUIT INVOLVED IN LOCOMOTION (Federal Gov)

Feb 15 2013 - Jan 31 2016
EVALUATION OF CANDIDATE CHEMICAL MODIFIERS OF SMN BIOLOGY IN A MOUSE MODEL OF SMA (Private)

May 1 2015 - Oct 31 2015
MOLECULAR AND CELLULAR CHARACTERIZATION OF SMN-MEDIATED U7 SNRNP ASSEMBLY (Federal Gov)

Jun 1 2012 - May 31 2015
THERAPY FOR SPINAL MUSCULAR ATROPHY (Federal Gov)

Mar 20 2010 - Feb 8 2015
ROLE OF STASIMON DYSFUNCTION IN SPINAL MUSCULAR ATROPHY (Federal Gov)

Feb 1 2012 - Jan 31 2014
COLUMBIA SMA PROJECT: IDENTIFICATION OF GENETIC MODIFIERS OF SMN EXPRESSION AND FUNCTION (Federal Gov)

Sep 3 2010 - Oct 2 2013
A FUNCTIONAL CELL-BASED SCREEN FOR POTENTIAL SMA THERAPEUTIC COMPOUNDS (Federal Gov)

Jul 15 2010 - Jun 30 2013
NONCODING RNA TARGETS OF THE SPINAL MUSCULAR ATROPHY PROTEIN (Federal Gov)

Sep 1 2009 - Aug 31 2012
REGULATION OF SMN FUNCTION IN RIBONUCLEOPROTEIN ASSEMBLY (Private)

Jul 1 2009 - Jun 30 2012
Selected Publications
Simon, C.M., Janas, A.M., Lotti, F., Tapia, J.C., Pellizzoni, L. & G.Z. Mentis. (2016). A stem cell model of the motor circuit uncouples motor neuron death from hyperexcitability induced by SMN deficiency. Cell Reports, 16, 1416-1430.
Tisdale, S., Lotti, F., Saieva, L., Van Meerbeke, J.P., Crawford T.O., Sumner, C.J., Mentis, G.Z. & Pellizzoni, L. (2013). SMN is essential for the biogenesis of U7 small nuclear ribonucleoprotein and 3'-end formation of histone mRNAs. Cell Reports, 5(5), 1187-1195.
Lotti, F., Imlach, W.L., Saieva, L., Beck, E.S., Hao, L.T., Li, D.K., Jiao, W., Mentis, G.Z.M., Beattie, C.E., McCabe, B.D. & Pellizzoni, L. (2012). A SMN-dependent U12 splicing event essential for motor circuit function. Cell, 151(2), 440-454.
Imlach, W.L., Beck, E.S., Choi, B.J., Lotti, F., Pellizzoni, L. & McCabe, B.D. (2012). SMN is Required for sensory-motor circuit function in Drosophila. Cell, 151(2), 427-439.
Ruggiu, M., McGovern, V.L., Lotti, F., Saieva, L., Li, D.K., Kariya, S., Monani, U.R., Burghes, A.H.M. & Pellizzoni, L. (2012). A role for SMN exon 7 splicing in the selective vulnerability of motor neurons in Spinal Muscular Atrophy. Molecular and Cellular Biology, 32(1), 126 138.
Gabanella, F., Butchbach, M.E.R., Saieva, L., Carissimi, C., Burghes, A.H. & Pellizzoni, L. (2007). Ribonucleoprotein assembly defects correlate with spinal muscular atrophy severity and preferentially affect a subset of spliceosomal snRNPs. PLoS ONE, 2(9), e921.
Gabanella, F., Carissimi, C., Usiello, A. & Pellizzoni, L. (2005). The activity of the Spinal Muscular Atrophy protein is regulated during development and cellular differentiation. Human Molecular Genetics, 14(23), 3629-3642.
Pellizzoni, L., Yong, J. & Dreyfuss, G. (2002). Essential role for the SMN complex in the specificity of snRNP assembly. Science, 298(5599), 1775-1779.