Adolfo A. Ferrando, MD, PhD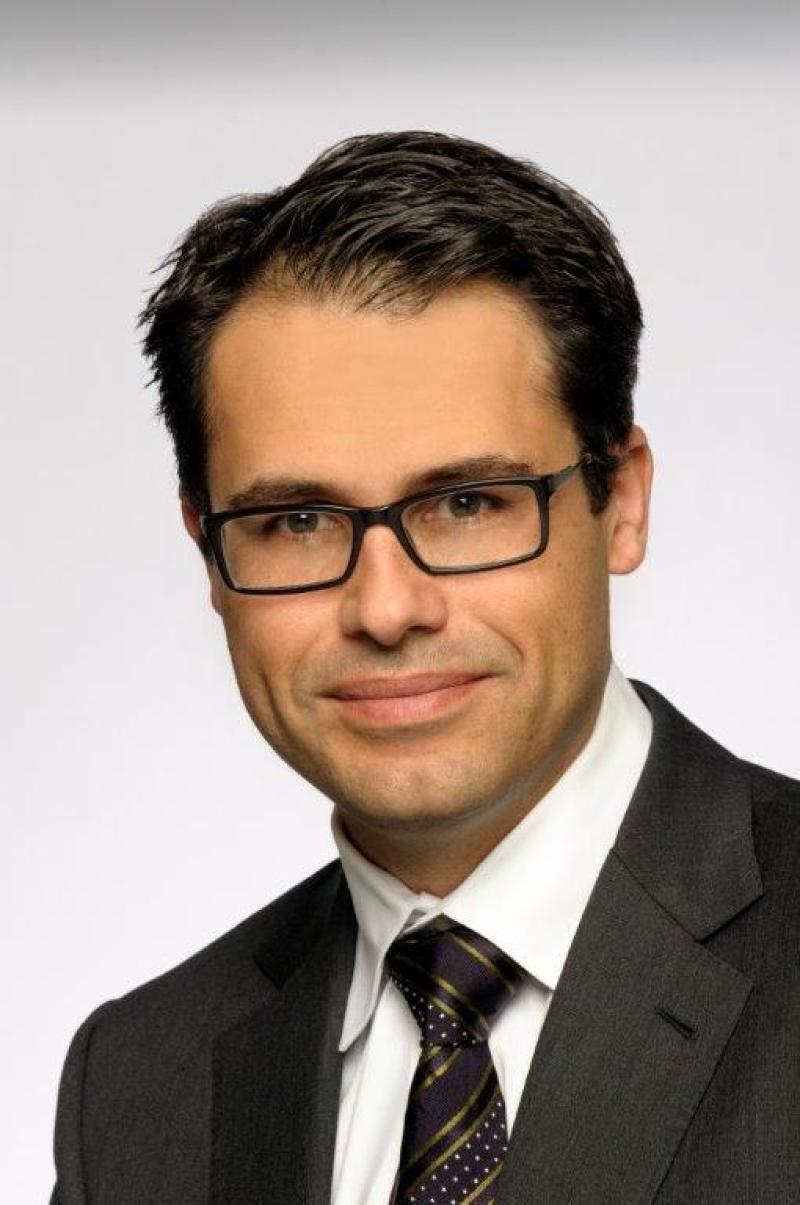 Overview
Academic Appointments
Associate Professor of Pediatrics
Associate Professor of Pathology and Cell Biology (in the Institute for Cancer Genetics)
Administrative Titles
Associate Director for Shared Resources, Herbert Irving Comprehensive Cancer Center
Acute lymphoblastic leukemia (ALL) is the most common cancer in children. Enormous progress has been made in the treatment of ALL, raising the cure rate to more than 80 percent in children. However, there remains a subset of patients whose leukemia comes back, posing a clinical challenge to their physicians. Adolfo Ferrando, MD, PhD is a researcher whose investigations are exploring the molecular mechanisms underlying the growth of ALL, particularly leukemias that develop resistance to chemotherapy drugs.
His team in at the Institute for Cancer Genetics identified a protein called NOTCH1 as a major driver of ALL that develops from white blood cells, called T cells (T-ALL). Drugs that inhibit NOTCH suppress leukemia cell growth, but cause intestinal toxicity. Dr. Ferrando and his team defined the mechanism of action of NOTCH inhibitors and identified a drug combination that maximizes their anticancer effects while minimizing intestinal side effects. The findings moved the development of NOTCH inhibitors into clinical trials for the treatment of patients with high-risk T-ALL. In addition, his team has also learned that a protein called AKT1 may interact with NOTCH1 and promote the resistance of leukemia cells to a class of drugs central in the treatment of ALL, called glucocorticoids. AKT1 is in a pathway called the PI3 kinase pathway, and there are many drugs in development now that target these molecules. It is hoped that inhibiting AKT1 could reverse the resistance of leukemia cells to glucocorticoids.
Recently much of the efforts in the Ferrando lab are directed to determine how and why some leukemia cells escape the damaging effects of chemotherapy. The researchers identified a gene called NT5C2 which, when mutated, activates other genes that help leukemia cells clear themselves of chemotherapy drugs, enabling them to continue to survive and grow. This genetic mutation may serve as a target for new therapies that could work by inactivating mutant NT5C2, restoring the sensitivity of leukemia cells to anticancer drugs.
Dr. Ferrando has served PI or co-Investigator on several previous grants funded by the NIH, the Leukemia and Lymphoma Society and other private foundations. He has built a highly trained and well-coordinated team with specific expertise in genomics, bioinformatics, protein biochemistry, genetically manipulated mouse models of leukemia and experimental therapeutics. His lab's research projects have produced numerous peer-reviewed publications, including Nature, Nature Medicine, Nature Genetics, Cancer Cell, and Cancer Discovery. He has been recognized for his contributions to the field with several awards, including the Pershing Square Sohn Prize in Cancer Research and induction into the American Society of Clinical Investigation membership.
Research
Grants
ECOG-ACRIN INTEGRATED LEUKEMIA TRANSLATIONAL RESEARCH CENTER (Federal Gov)

Mar 7 2019 - Feb 28 2025
MOLECULAR PATHWAYS AND TARGETED THERAPIES IN HUMAN LEUKEMIA (Federal Gov)

Sep 30 2017 - Aug 31 2024
MASTER REGULATORS OF DRUG RESISTANCE IN RELAPSED ACUTE LYMPHOBLASTIC LEUKEMIA (Private)

Jul 1 2019 - Jun 30 2023
MOLECULAR CHARACTERIZATION AND TARGETING OF NT5C2 MUTATIONS IN ACUTE LYMPHOBLASTIC LEUKEMIA (Federal Gov)

Aug 1 2017 - Jul 31 2022
ROLE AND MECHANISMS OF ENHANCER DEREGULATION IN T-ALL (Private)

Jul 1 2019 - Jun 30 2022
THE ROLE OF A NOVEL FUSION ONCOGENE FYN-TRAF3IP2 IN PERIPHERAL T-CELL LYMPHOMA (Federal Gov)

Feb 1 2018 - Jan 31 2022
COLUMBIA UNIVERSITY SKIN DISEASE RESOURCE-BASED CENTER (EPICURE) (Federal Gov)

Aug 1 2016 - Jul 31 2021
NOVEL ANTIVIRAL PROTACS FOR THE TREATMENT OF COVID-19, EMERGING VIRAL PATHOGENS AND CANCER (Private)

Jul 1 2020 - Jun 30 2021
MOLECULAR MECHANISMS OF PHF6 MUTATIONS IN LEUKEMOGENESIS (Private)

Jul 1 2019 - Jun 30 2021
TARGETING METABOLIC VULNERABILITIES IN ETP-AL (Private)

Jul 1 2017 - Jun 30 2021
NEW THERAPIES IN RELAPSED ALL (Private)

Oct 1 2017 - Jun 30 2020
THE ROLE OF NOTCH1 CONTROLLED MICROPEPTIDES IN T-ALL (Private)

Jul 1 2017 - Jun 30 2020
CANCER CENTER SUPPORT GRANT (Federal Gov)

Jul 1 2014 - Jun 30 2020
PLATFORM DEVELOPMENT FOR TARGET IDENTIFICATION IN HIGH RISK PEDIATRIC LEUKEMIAS (Private)

Apr 1 2019 - Mar 31 2020
MECHANISMS OF CHEMOTHERAPY RESISTANCE IN ACUTE LYMPHOBLASTIC LEUKEMIA (Private)

Jan 1 2018 - Dec 31 2019
OVERCOMING CHEMOTHERAPY RESISTANCE IN CHILDHO (Private)

Dec 31 2017 - Dec 31 2019
TARGETING METABOLIC VULNERABILITIES IN ETP-AL (Private)

Oct 1 2017 - Sep 30 2019
MECHANISMS OF CHEMOTHERAPY RESISTANCE IN ACUTE LYMPHOBLASTIC LEUKEMIA (Private)

Sep 1 2017 - Aug 31 2019
THE GENETICS AND MECHANISM OF CHEMOTHERAPY RESISTANCE IN ALL (Private)

Jul 1 2018 - Jun 30 2019
DEVELOPMENT OF NT5C2 INHIBITORS FOR TREATMENT OF RELAPSED REFRACTORY ALL (Private)

Jul 1 2017 - Jun 30 2019
PRECISION-BASED THERAPY FOR CHILDHOOD LEUKEMIA (Private)

Jul 1 2016 - Jun 30 2019
BRINGING ANTI-NOTCH1 THERAPIES TO THE CLINIC (Private)

Oct 1 2017 - Sep 30 2018
THE GENETICS AND MECHANISM OF CHEMOTHERAPY RESISTANCE IN ALL (Private)

Jul 1 2017 - Jun 30 2018
THE ROLE OF VAV1 MUTATIONS IN PERIPHERAL T-CELL LYMPHOMAS (Private)

Jul 1 2016 - Jun 30 2018
NEW METABOLIC TARGETS IN ACUTE LYMPHOBLASTIC LEUKEMIA (ALL) (Private)

Jul 1 2016 - Jun 30 2018
THE ROLE OF NOTCH1 IN THE PATHOGENESIS OF CLL (Federal Gov)

Apr 1 2013 - Mar 31 2018
THE ROLE OF ETV6 IN T-CELL ACUTE LYMPHOBLASTIC LEUKEMIA. (Federal Gov)

Feb 1 2013 - Jan 31 2018
MECHANISMS OF CHEMOTHERAPY RESISTANCE IN ACUTE LYMPHOBLASTIC LEUKEMIA (Private)

Jan 1 2016 - Dec 31 2017
BRINGING ANTI-NOTCH1 THERAPIES TO THE CLINIC (Private)

Oct 1 2014 - Sep 30 2017
TARGETING CHEMOTHERAPY RESISTANCE IN T-ALL (Private)

Oct 1 2014 - Sep 30 2017
EMERGING TARGETS IN LYMPHOID MALIGNANCIES: PROJECT 4 - OVERCOMING GLUCOCORTICOID RESISTANCE IN ALL (Private)

Oct 1 2012 - Sep 30 2017
NEW SYNERGISTIC DRUG COMBINATIONS FOR THE TREATMENT OF T-ALL (Private)

Jul 1 2016 - Jun 30 2017
NEW METABOLIC TARGETS IN ACUTE LYMPHOBLASTIC LEUKEMIA (ALL) (Private)

Jul 1 2016 - Jun 30 2017
FUNCTIONAL DISSECTION OF ONCOGENIC ENHANCERS IN T-ALL (Private)

Jul 1 2015 - Jun 30 2017
FUNCTIONAL DISSECTION OF ONCOGENIC ENHANCERS IN T-CELL LEUKEMIA (Private)

Jul 1 2014 - Jun 30 2017
PROGNOSTIC BIOMARKERS AND DISEASE DRIVERS IN T-CELL ACUTE LYMPHOBLASTIC LEUKEMIA (Federal Gov)

Mar 1 2016 - Feb 28 2017
THE ROLE OF FBXL4 IN T-CELL ACUTE LYMPHOBLASTIC LEUKEMIA (Federal Gov)

Jan 15 2013 - Jan 14 2017
SOHN COLLABORATIVE FOR PEDIATRIC CANCER RESEARCH (Private)

Apr 22 2014 - Dec 31 2016
OVERCOMING RESISTANCE IN RELAPSED ALL (Private)

Jul 1 2015 - Jun 30 2016
TARGETING EPIGENETIC PLASTICITY AND DRUG RESISTANCE IN PEDIATRIC CANCER (Private)

Jul 1 2015 - Jun 30 2016
MECHANISMS AND TARGETED INHIBITION OF NT5C2 MUTATIONS IN RELAPSED ALL (Private)

Jul 1 2014 - Jun 30 2016
NEW SYNERGISTIC DRUG COMBINATIONS FOR THE TREATMENT OF T-ALL (Private)

Apr 1 2015 - Mar 31 2016
THE ROLE OF PHF6 IN LEUKEMIA STEM CELL SELF-RENEWAL (Private)

Apr 1 2015 - Mar 31 2016
THE ROLE OF NOTCH1 IN CHRONIC LYMPHOCYTIC LEUKEMIA (Private)

Mar 1 2014 - Feb 29 2016
PERSHING SQUARE SOHN CELL SORTER EQUIPMENT GRANT (Private)

Oct 1 2015 - Dec 31 2015
DEVELOPING NEW COMBINATION THERAPIES IN T-CELL ACUTE LYMPHOBLASTIC LEUKEMIA (Private)

Jan 1 2015 - Dec 31 2015
CLONAL EVOLUTION AND CHEMOTHERAPY RESISTANCE IN ALL (Private)

Jan 1 2014 - Dec 31 2015
MECHANISMS OF CHEMOTHERAPY RESISTANCE IN ACUTE LYMPHOBLASTIC LEUKEMIA (Private)

Jan 1 2014 - Dec 31 2015
THE ROLE OF PHF6 IN T-CELL ACUTE LYMPHOBLASTIC LEUKEMIA (Federal Gov)

Dec 3 2010 - Nov 30 2015
THE EPIGENETIC ROLE OF PHF6 IN T-CELL ACUTE LYMPHOBLASTIC LEUKEMIA (Private)

Oct 1 2014 - Sep 30 2015
FUNCTIONAL DISSECTION OF ONCOGENIC ENHANCERS IN T-ALL (Private)

Jul 1 2015 - Jul 1 2015
THE ROLE OF RUNX1 MUTATIONS IN THE PATHOGENESIS OF T-CELL ACUTE LYMPHOBLASTIC LEUKEMIA (Private)

Jul 1 2013 - Jun 30 2015
LONG RANGE ENHANCER REGULATION OF MYC IN T-CELL TRANSFORMATION (Private)

Jul 1 2012 - Jun 30 2015
NEW SYNERGISTIC DRUG COMBINATIONS FOR THE TREATMENT OF T-ALL (Private)

Apr 1 2013 - Mar 31 2015
THE GENETICS OF PERIPHERAL T-CELL LYMPHOMAS (Private)

Oct 1 2011 - Sep 30 2014
THE ROLE OF NT5C2 IN DRUG RESISTANCE AND RELAPSE OF T-CELL ACUTE LYMPHOBLASTIC LEUKEMIA (Private)

Sep 1 2013 - Aug 31 2014
THE ROLE OF NT5C2 IN RELAPSED AND REFRACTORY T-ALL (Private)

Jul 1 2013 - Jun 30 2014
TARGETING GLUCOCORTICOID RESISTANCE IN T-ALL (Private)

Jul 1 2011 - Jun 30 2014
TARGETING GENETIC AND METABOLIC NETWORKS IN T-ALL (Private)

Jun 1 2011 - May 31 2014
THEROLE OF AKT SIGNALING IN NOTCH1 INDUCED LEUKEMIAS (Federal Gov)

Apr 1 2008 - Jan 31 2014
TARGETING CHEMOTHERAPY RESISTANCE IN T-ALL (Private)

Jan 1 2012 - Dec 31 2013
MECHANISMS OF T-CELL LEUKEMOGENESIS INDUCED BY NOTCH1 (Federal Gov)

Dec 1 2006 - Nov 30 2013
TRAINING ON TRANSLATIONAL RESEARCH IN CANCER (Private)

Nov 1 2012 - Oct 31 2013
ANALYSIS OF PF-03084014 AND GLUCOCORTICO IN (Private)

Jul 1 2011 - Sep 13 2013
TARGETING CLASS I PI3KS IN THE TREATMENT OF T-CELL ACUTE LYMPHOBLASTIC LEUKEMIA (Federal Gov)

Aug 1 2010 - Aug 31 2013
THE ROLE OF RUNX1 IN T-CELL ACUTE LYMPHOBLASTIC LEUKEMIA (Private)

Jul 1 2012 - Jun 30 2013
THE ROLE OF PHF6 IN T-CELL ACUTE LYMPHOBLASTIC LEUKEMIA (Private)

Jul 1 2011 - Jun 30 2013
MECHANISMS OF T-CELL LEUKEMOGENESIS INDUCED BY NOTCH1 (Private)

Feb 15 2012 - Feb 14 2013
PRECLINICAL STUDIES WITH GAMMA SECRETASE INHIBITORS (GSIS) A ND GLUCOCORTICOIDS IN T-ALL (Private)

Nov 2 2011 - Nov 1 2012
CLASS I P13KS AS A THERAPEUTIC TARGET IN ACUTE LYMPHOBLASTIC LEUKEMIA (Private)

Oct 1 2009 - Sep 30 2012
NOVEL NOTCH INHIBITORS AND ENHANCERS (Private)

Oct 1 2007 - Sep 30 2012
SYSTEMS BIOLOGY OF TUMOR PROGRESSION AND DRUG-RESISTANCE (Federal Gov)

Sep 30 2009 - Aug 31 2012
THE GENETICS OF RELAPSED AND REFRACTORY T-ALL (Private)

Jul 1 2011 - Jun 30 2012
MECHANISMS IF T-CELL LEUKEMOGENESIS INDUCED BY NOTCH1 (Private)

Jul 1 2007 - Jun 30 2012
THE ROLE OF RUNX1 IN T-ALL (Private)

Apr 1 2011 - Mar 31 2012
TARGETING GLUCOCORTICOID RESISTANCE IN T-ALL: A SYSTEMS BIOL OGY APPROACH (Private)

Jan 1 2010 - Dec 31 2011
COMBINATION THERAPY WITH NOTCH INHIBITORS AND GLUCOCORTICOID S IN T-ALL (Private)

Oct 1 2007 - Sep 30 2011
PRECLINICAL STUDIES WITH GSI PF-03084014 AND GLUCOCORTICOIDS IN TALL (Private)

Aug 3 2009 - Jun 30 2011
THE ROLE OF HES1 IN T CELL DEVELOPMENT (Private)

Jul 1 2007 - Jun 30 2011
THE ROLE OF PHF6 IN THE PATHOGENESIS OF T-ALL (Private)

May 1 2010 - Apr 30 2011
PRECLINICAL STUDIES WITH MERCK\"S GAMMA SECRETASE INHIBITOR ( GSI), MRK003 AND/OR MK-0752, AND GLUCOCORTICOIDS IN TALL. (Private)

Jan 5 2009 - Jan 4 2011